What is Healing Vine?
What happens when two creatives come together with a mission to enhance, educate and bring together their local community? Powerful ideas! And from the seeds of these ideas, a vine grew. It branched its tendrils out further and further towards the sun, growing and gaining strength along the way.
This is Healing Vine.
Like a vine branches out, so does our group and community, growing more leaves as it does. Starting out with small, intimate gatherings on the Gold Coast with a couple of close friends, the healing vine now has offshoots in Brisbane, Melbourne, Sydney, Perth and beyond.
Our mission is to bring together those around us into a community. Knowledge, awareness, health filled food, creative endeavours, yoga, meditation, mindfulness, music, singing and dance. The contributions to our cooperative continue to increase with each gathering of the healing vine.
"No man is an Island"
This is who we are. Each one of us a part of the whole.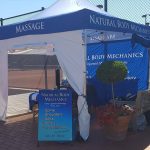 Julie Williams
Deep Ligament Release Practitioner, Owner Natural Body Mechanics
Michelle Maree Groth
School Teacher
"As a 51yr old professional with some chronic health concerns, I am constantly adding medical and therapeutic ideas and professionals to my 'arsenal'; to maintain and improve my overall well-being.  After many years of relying mostly on Western medicine and not reaching anywhere near optimum health, I started to investigate more alternative philosophies and therapies. Meditation, yoga, the power of crystals, sound wave therapy, numerology, charkas and clearing energies have all become imperative to my health regime.
I have always believed people are sent to me when I need them and Janice Wood is definitely among the ones I am most grateful for.  When attended some of her Healing Vine events, I immediately felt a connection to Janice and loved her friendly, open and professional manner. Through time with her during group events and some one-on-one healing sessions, I believe Janice's highly attuned intuition and depth of well-being related research offered me some very perceptive advice and strategies they have helped me immensely towards a happier, healthier me. She has empowered me to see things differently, be brave, try new ways of thinking and behaving. It is hard to sum up in one sentence what she "does" but I can confidently say she has made an invaluable difference to my physical and mental health, my daily functioning, my professional and personal relationships and my overall quality of life.
Janice Wood is truly a precious gem that I would recommend to any individual or business wanting an intuitive, knowledgeable practitioner/co-ordinator to improve and enhance their support systems."

Rachel Rouch
Human Resource Coordinator – Banyule Community Health
"Janice listens intently and provides practical suggestions and options for feeling better so achievable. Arnica, Magnesium, Lavender, Wild Orange, Wintergreen to name a few… love your passion."
Kim Stansfield
Founder & Instructor – Yoga Fit For Life
"Janice has a vast knowledge with numerology and her readings are very helpful in gaining a better understanding of oneself."

Jason King
Business Development Coach – Jason King Global
"Eyes now wide open!! After my girlfriend and I used the services of Janice Wood at Healing Vine, we were blown away at how accurate and helpful the recommendations were. We have used so much of Janice's knowledge in our day to day lives and also in our relationship together. My girlfriends family has also now had a session with Janice, again with huge success."
Conrad Francis
Director – Inspired Money
"I cannot speak highly enough about the services Janice provides and with the integrity they are provided. Thanks to Janice I have a better understanding of me and my capabilities in the situations I find myself in. Thanks JW x."